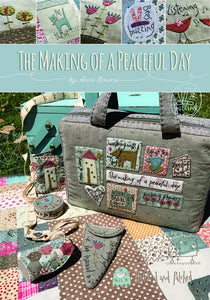 This book is full of things which make me happy and hope they make you smile too! There is nothing better than relaxing at home, reading a book, With 11 projects all based on mindfulness there is something for everyone. Named 'The Making of a Peaceful Day', it has a quilt for lazing with, a cushion to rest your head, a bookmark to mark your page, a drink bottle cover to keep your water cool, a notepad to jot down what we need to do....later, a bag in which to store all of the above, a sewing case to keep our projects contained and thus all things in which to make us happy, a chatelaine to help keep all of our essential sewing tools close at hand.....everything to make our day as peaceful as can be!!
There are many projects to make which are listed below.
The Making of a Peaceful Day Quilt
This quilt has many images to applique and stitch, and is put together with very simple piecing…all in all a relaxing quilt to make! Finished size 56"x56" Fabric pack (includes all fabric for quilt top and binding)
Peaceful Day Case
This case is small (6.5"x9"with a  2.5" gusset), but is the perfect size to fill with a project along with your sewing supplies. The front of the case has a medley of images, plus a few options for different images to be used (such as caravans and cats), so you can make it uniquely yours! The back of the case has pieced hexagons. It has a zip which is incredibly easy to insert (trust me!!), and can be zipped totally open for ease of access to all stored within. Fabric pack (includes all fabric, lining, zipper, paper hexagons, woven wool, measure tape for inside lining, fusible fleece, and fusible interfacing) 
Peaceful Day Chatelaine
I love to use a chatelaine, so I can loop my supplies around my shoulders, and have everything at hand as I need it. This chatelaine comes with a pinkeep, scissorkeep, needle case, and thread case, all connected using a decorative measuring tape. Fabric pack (includes all fabric, woven wool, tape, paper hexagons, buttons, snap fastener and fusible interfacing)
Fun in the Sun Bag
This is a simple bag, and has a wide gusset to store all manner of things – the perfect size to store a picnic rug, some food, and your sewing project and book – all the makings of a blissful day! Completed with your choice of stitchery and a few patches for fun, it has a touch of whimsy without going overboard. Fa bric pack (includes all fabric, lining, woven wool, handles, 2 sew-in magnetic closures, fusible fleece and interfacing) 
Water Bottle Cover
I don't know about you, but I take my water bottle everywhere, so now I have a great cover to be able to carry it, and help the water to stay cold, AND stop condensation from oozing onto everything! This water bottle cover would fit most water bottles, but there is an algorithm to help make a cover to suit any water bottle if yours is an odd size. Again, it is up to you as to which images you choose to stitch to make it your very own. The cover comes complete with a band for ease of carrying, attached using a clasp. Fabric pack (includes all fabric, lining, tape, lobster clasp, D-ring, hand-dyed thread and fusible fleece)
Pat the Cat Cushion
Who doesn't love a cushion to laze with, so one definitely had to make an addition into this book!! This cushion is simple and scrappy, with a woven wool appliqued cat stitched in the centre. Fabric pack (includes all fabric, woven wool, zipper, and fusible fleece) 
Little Jug Notebook Cover
Yes, a to-do (later) notebook is such a handy little addition in my handbag, so why not have one with style!?!! This cover fits the basic size of small notebook. Fabric pack (includes all fabric, lining, sew-in magnetic closure, woven wool and fusible fleece) 
Flower Jug Bookmark
Hopefully you don't have to pause in the reading of your book, but if you do, this little bookmark is the perfect answer to marking the page you were up to! Fabric pack (includes all fabric)
Thread Pack
There are 9 thread I use throughout this book, so have made up a pack ready to go! I have used DMC 6-stranded embroidery floss in the following colours – 371 (soft green), 610 (brown), 612 (putty), 844 (grey brown), 926 (French blue), 3328 (raspberry), 3768 (dark blue), 3859 (pink) & 3862 (terracotta). 
Extra thread  - I also used Cottage Garden Thread 'Numeric' in some of the stitchery projects, and have this hand-dyed thread available.