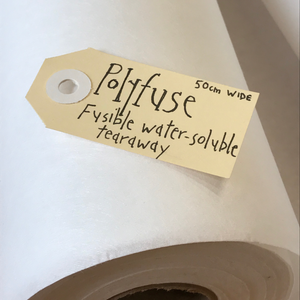 Polyfuse
I have used this product in my Little Things and Flower Garden Pencil Case designs.
Polyfuse is a fusible water soluble tearaway. It softens when washed and does not leave any bulk to your design but leaves a thin layer of polyester fibre which helps reduce shadowing in applique and pads the shapes.
50cm wide.

Interfacing is sold in 0.25 metre increments.  
Therefore One unit = .25 metres of interfacing. 4 units = 1 metre of interfacing.
So it is priced at $1.43 / 0.25 metres.
If you would like more than 0.25 metre just add to your quantity above.