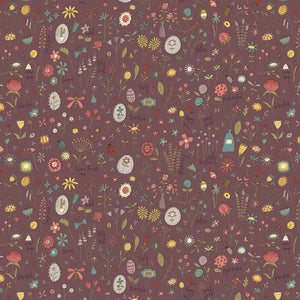 Market Garden - 2896-58 - Tossed Wild Flowers - Raisin

Who doesn't love flowers? They have always had a special place in my heart. My childhood garden had always been overgrown with many varieties of flowers. What a delight to pluck a bunch to place inside my home filling the air with heavenly scents. The main print in this collection captures the feel of the flower market. It depicts groupings of different flowers along with signs, flower carts, wheel-barrows and buckets filled to the brim. Another print shows a fun field-study print with individual flowers displayed. A third print, a small floral and geometric coordinate, adds to the mix for a truly whimsical patchwork garden. The large prints could be fussy-cut to have different flowers in each block or they can be used as a whole cloth for the full flower-market effect. Aprons, bags, cushions and quilts along with many other projects could all be made from this range.

Fabric is sold in 0.25 metre increments.  
Therefore One unit = .25 metres of fabric. 4 units = 1 metre of fabric.
So it is priced at $7.10 / 0.25 metres.
If you would like more than 0.25 metre just add to your quantity above.
Fabric Width - 42"