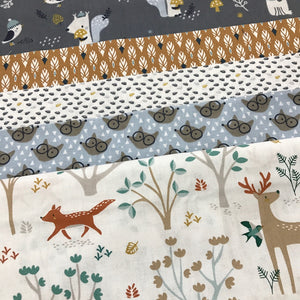 Foxes and Deer - Fabric Bundle

I love these prints with their simple modern designs and soft tones!! They are a whopping 58" (148cm) wide, and would look great in quilts, cushions, sheet sets, clothing...the list goes on!
I have created two different bundles from them, or buy them off the bolt for $35/m. Choose from bunnies & rainbows, or foxes & deer, or grab them both and mix them up! Each bundle contains 12" x 58" (30x148cm) of five fabrics for $52.