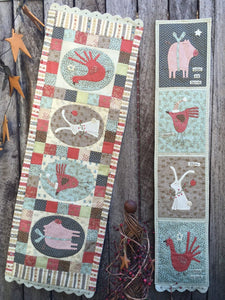 Welcome 'Christmas Creatures'...a pattern containing four characters - Penelope the Pig, Beatrice the Bird, Terry the Turkey, and Rupert the Rabbit, all collected together to be worked as a wall hanging (7"x 35.5") or a table runner (12.5"x37.5").
The pattern is available, or you can purchase a kit for the wall hanging or table runner
Note all kits include the pattern, and all fabric to make the top and scallop border. No backing, wadding or thread are supplied, but we can include these if requested.